Ramp up Search Engine Optimization initiatives specific to your Local Market & get top visibility on major search engines in or near your area.
In a competitive local market, it can be difficult for your business to stand out. Local SEO best practices help you dominate local search engine listings, improve organic traffic to your website from nearby customers and gain more attention from the consumer segment that matters most.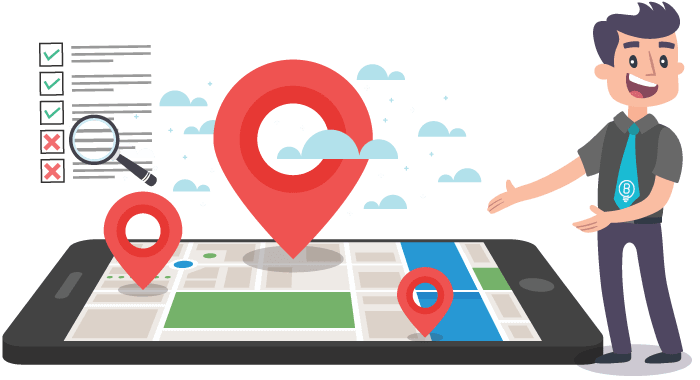 Local Visibility As It Gets
Imagine how frustrating searching for your business or services in a given local market showing up on various business listings or directories with inconsistent phone numbers or business addresses? Or worse, not showing up at all with the yelps, angies and thumbtacks of-the-world burying local businesses including yours, in your home town? Or worst, seeing your local competitors dominating top pages of Google, Bing, and DuckDuckgo while your business is no where to be found?
Our top-notch Local SEO service can help your business get top visibilities you deserve. Be found clearly at all time and at the right place when customers are searching for your products or services – they find your website first instead of competitors'.
Optimizing for the local search visibility creates a tremendous impact on your business sales and growth, as you can easily be seen, found, and searched for on search engines. Your website also get on-page optimization including specific content keywords tailored for local area market, ADA web accessibility compliance, clear CTAs (call to action) buttons, Voice Optimization (for Google Assistant, Alexa, & Siri), mobile user UI/UX, core vitals & Schema structured data.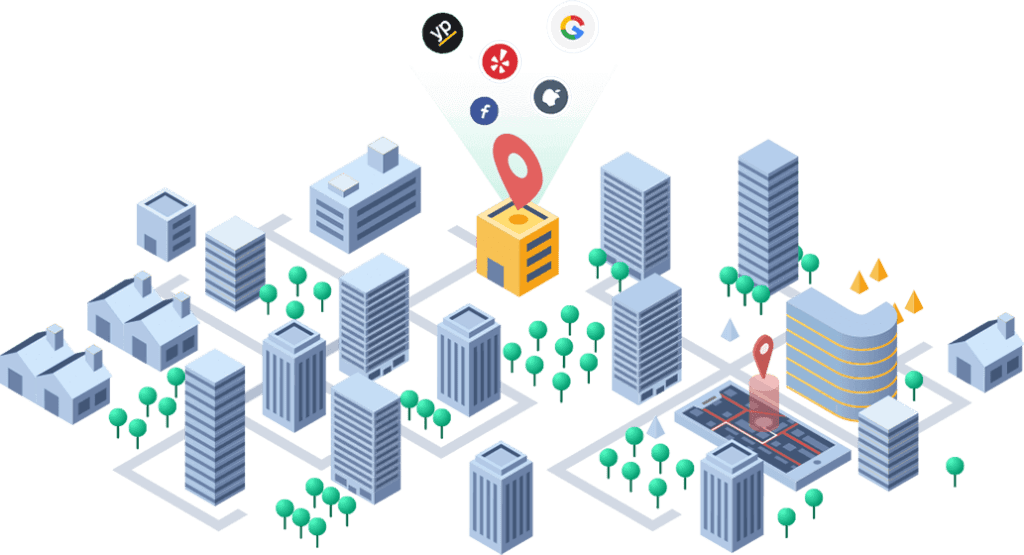 Data driven results show that optimizing for organic SEO and Local Search combined is the best strategy for driving website traffic –  the most reliable, resilient, and high-performing with the best ROI compared to other channels.
Go beyond basic ranking reports to uncover the best opportunities to rank higher, improve your business reputation, generate more traffic and leads from local searches.
Frequently Asked Questions
SEO is an acronym for Search Engine Optimization, is the use of strategies to improve organic search rankings for your websites and product pages. These strategies include on-page optimization, quality link building, researching competitors, website performance, signal monitoring and more. The purpose of your website is for consumers to buy your products or services, but what if Google can't crawl you to top pages, your target audience can't. Our SEO services provide your website the visibility it needs for long-term success.
Individual business campaigns differ in cost according to the keywords targeted, the website's history, the industry/niche and how much work is required to reach your goals. We provide affordable solutions for businesses of every size, and we know how to get the results you need. To speak with one of our SEO specialists and get a free quote, please contact us.
Most websites or online stores don't need changes to the structure or design for SEO — just on-page optimization changes to the content or code of individual products and pages, which is not shown on frontend but will be obvious to search engines. Many clients decide to have SEO experts like us to make these changes, but we can also provide directives to or train your web marketing staff if you'd rather make these changes in-house.
We cannot guarantee top search engine results for every business. That is why we are very selective of the businesses we work with. We usually preview projects with SEO audit, competitive intelligence, and market research. Then take on only the projects that would most likely generate results for clients. Otherwise, we will let you know and we would not take the project. We are committed to quality work and our track record of achieving measurable results for businesses that are the right fit.

We have experience working with different business and e-commerce websites. The most common requests come from business websites that use WordPress, Drupal, Joomla and online store clients that use WooCommerce, Magento, Shopify, Volusion, Prestashop. Some platforms such as Squarespace, Wix, Weebly allow for limited optimization or customization so it's best to contact us  to discuss if your solution has any limitations from an SEO perspective.
The biggest search engines: Google, Bing, Yahoo, and Duckduckgo, each has more than 200 ranking factors which determine how  websites will rank for your targeted keywords, depending on a given market or industry it's hard to precisely predict how long that will take for a stable result. And for all its considerable ROI, Search Engine Optimization is best thought of as a long-term strategy. However, we can tell you in most cases,  our clients  see a marked improvement on long tail keywords in the first 3 months and on more competitive keywords within 6 months period. We will identify profitable keywords, not just the keywords that are returning the most searches per month, but ones that will allow for the most effective use of your marketing budget to deliver actual results.